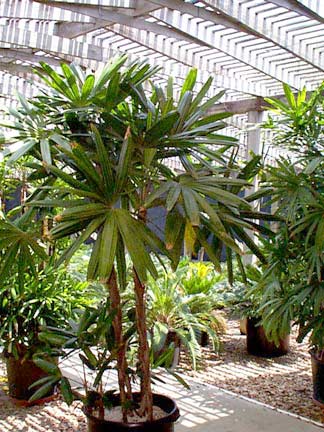 Rhapis excelsa 'taiheiden' Lady Palm from scubamom's private collection.


Rhapis excelsa 'taiheiden' is perhaps the most sought after of the all-green Rhapis. This is truly the "King of kannonchiku". The quality of the leaf is very good, they are very large, wide and thick. The leaves and trunks are the largest of all the Lady Palms. They are very slow growers and very expensive, the value of these 30 year old container grown palms (pictured) are in excess of $5,000 and are perhaps the largest 'taiheidens' in the world.

Pups of the 'Taiheiden' are available "Only serious collectors should inquire as to price and size." Email below.



Next Image

To Green Thumbs Main Menu
BACK

To Rhapis Page
All Images are the Property of G. Gaelen Meiser and are protected by Copyright.
No Reproduction Of Any Kind, Either Electronically Or Mechanical, Is Granted Without Prior Written Consent.
© Copyright, 2000 G. Gaelen Meiser - All Rights Reserved

Rhapis Gardens

To Sago Page