Mango's Jungle
Mango's Jungle is totally informal. It is the kind of place that has patios for sitting in the sun, relaxing in the shade, and enjoying the summer evening breezes which are common in the Rio Grande valley. Take off your shoes, grab a beer or a soft drink (add a little lime to it, it tastes good) and enjoy browsing into a tropical jungle which exists right here in tropical Texas. Your host for today is my amigo, Mango.
Thad
| | |
| --- | --- |
| Hi! My name is Mango. I'm a gorgeous military macaw. I have a good friend, Tangerine, who lives in the same garden as I do. Tangerine is also a military macaw but not as good looking as I am. Now macaws are known for their exceptional intelligence and for the fact that they don't beat around the bush when it comes to saying what is going on. The two of us live in a island jungle with Alice and Thad. They are not real bright since they think that they own us macaws. What they don't realize is that Alice and Thad bring us fruit, peanuts, and seeds every day, they clean our pen, give us showers, and they rub our backs and bellies. We don't do that for them. So who's the smart ones? Who works for whom? If I don't like my food, I throw it on the floor. Here comes Alice with her little broom and cleans it up. Then they bring us better food. What a deal!! | |
Thad has asked me to take you on a tour of our island jungle. Thad has been very busy with his work and didn't have time to show you around. Thad and Alice have been here longer than I have but I have great knowledge in historical things b.m. (before Mango) since the four of us sit around in the palapa and visit a great deal. Alice and Thad have told me about the origination of their jungle, and I have taught them many things about plants and also have instructed them about the way jungles ought to be. Thad is quite competent as a gardener and now he knows a good deal about tropical plants, but he is a rather slow learner, and I usually have to remind him of things since he is getting on in age and is really forgetful.
| | |
| --- | --- |
| | |
| Click Here To Continue Tour | Click Here To Return to Texas Riviera Home Page |

Click Here for Thad Magyar's Image Gallery

Back to garden tour menu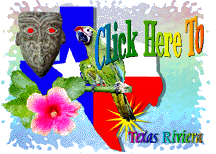 Menu of Pages
click on Back (above left) to return to this page

Photographs and text provided by Thad and Alice Magyar. Page design and web-made-ready images were developed by Tropical Wave 6 Graphics and raingardens.com. Page Hosting provided by texasriviera.com a domain resource of Digital Raingardens, Corpus Christi Texas.
© 1999 Digital Raingardens All Rights Reserved